About Caego Day Nursery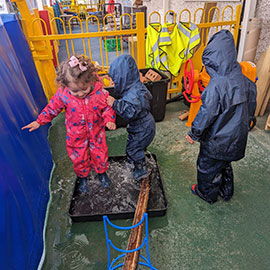 In order to make your child's induction into nursery as pleasant as possible and to help you understand how our nursery operates. This Nursery website is aimed at providing you with all the relevant information you require before finally making your decision. The nursery was first established in 1986 by the proprietor Mrs Margaret Hosie. The Nursery Manager is Mrs Rebecca Hosie who has worked here since 1995. In addition to the above the majority of our staff have remained her for over fifteen year's.
We will demonstrate that our aims are to provide our children with only the very best child care possible. The aim of the nursery is to provide a safe learning environment, where our children can reach their full potential at their own pace in a loving family atmosphere. Our children will benefit from the love, care, and support received from our long term dedicated staff.
We promote a working partnership with our parents. We always aim to gain the backing and support from them. We listen to and value their opinions and comments. This gives our children a secure feeling and a sense of belonging to an extended family. The nursery has an excellent reputation and continues to be recommended by our past and current parents.
The Nursery is divided into 4 units, as set out below. In order to maintain our strict high standards, senior Team leaders who have worked here for over ten years remain in each department. This allows robust relationship's to form between children and staff. All children and staff are treated equally with the love and respect they deserve, in a secure extended family loving atmosphere.
The Baby Unit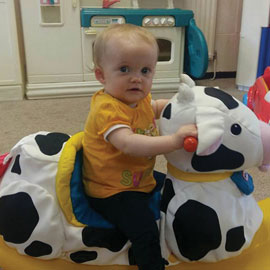 This is a self-contained unit which is registered for twenty-two children.
In this department, we work closely with the parents to support the same level of care that the baby receives at home.
This unit is specially designed and is fitted with a soft play area, which allows the children to explore and manoeuvre around in safety, yet at the same time allowing the staff to remain unobtrusive. The staff ratio in this department is 1:3. After only a three week period of settling in, our babies are gently persuaded into taking on board our routine. The atmosphere is a calm and happy one. Each child has a learning journey to follow; they are gently encouraged to accept new challenge's to prepare them for eventually entering the little chicks department.
From a very early age the children are entertained with a wide range of activities to benefit their development programme. When our babies have reached their goals in the baby unit, they are monitored and accessed accordingly by senior members of staff and management. Once permission is gained from parents, they are eventually transferred to the little chicks department.
Little Chicks Room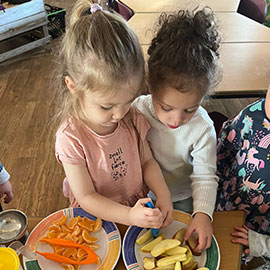 This is an excellent facility second to none, providing a stimulating, loving environment for our children to thrive in.
Here the children are prepared for the transition to the Toddler unit. They continue with activities to enhance their development further. This prepares them for eventually moving to the toddler unit.
The age range in this room is 18months and above, according to the individual needs of the child concerned.
Toddler Unit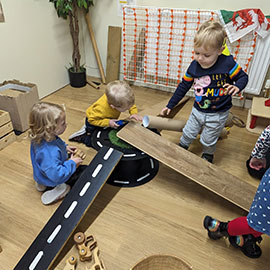 In this department, the team leaders are Mrs. Lisa Riley and Belinda Thackaberry, both have worked in this nursery for over fifteen years and have the necessary experience in handling this delicate age group.
They are assisted by other fully qualified staff all level three and above, offering our children a wealth of experience which eventually prepares them for entering the early years department.
The toddler unit is adjacent to the soft play area, which allows our littler ones to express them-selves physically in an appropriate environment.
This facility is unique and is second to none, our children do not realise, although they think they are only playing, they are actually learning so many skills.
They are offered a more challenging framework of activities incorporated with their free play, preparing them for the next stage of their development, and gradually their transition into the early years department.
Flying Start
In the same department we provide the correct resources to accommodate the Flying Start programme, which aims to provide free quality childcare to parents of children aged 2-3 years old.
They must be eligible and living within the postcode area. Each child will receive 2½ hours of free childcare per day, 5 days per week for 39 weeks of the year.
The Childcare Offer for Wales
Caego Day Nursery is registered for The Childcare Offer for Wales. The offer applies to 30 hours of government-funded childcare that includes Early Entitlement and Foundation Phase Nursery Provision for three and four year olds of working parents, for up to 48 weeks of the year. Eligible children will be able to access the offer from the beginning of the term following their third birthday until the September following their fourth birthday.
Please ask a member of staff for more details or contact the Wrexham Family Information Service on 01978 292094 or via their website
Early Years Department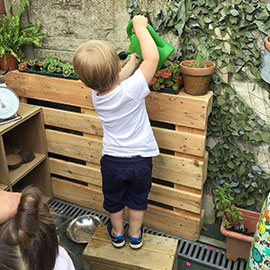 In this department your child will be given the opportunity to participate in exciting, experimenting, and appropriate developmental activities.
Mrs Rebecca Hosie is the Manager, she is fully qualified by Bangor University along with Mrs Gemma Walsh and Beth Roberts all qualified to a level five in early years Education.
Here we deliver the early year's entitlement to our three year olds. The children are gently encouraged to progress further in their development, both educationally and socially, yet without fear of feeling they have failed in any way at all.
They are constantly praised for their efforts; this encourages them to give of their very best. The children have a loving relationship with the long term staff, giving them the security they require as they learn in a loving, relaxed environment.
Having being in this department for only a short space of time, one can see the children blossom into bright well-mannered and confident students. The confidence and knowledge that the children receive in this department remains with them and enables them to grasp schoolroom tasks with ease. Evidence proves over the years, the majority of our children reach an academic level of reception class children.
Specially chosen trained Staff work along with the early year's teacher provided by Wrexham Borough Council, to plan and evaluate the children's learning journey. They have activities in all areas to a high standard.
Through high expectations and the pursuit of excellence each individual child shall be encouraged to reach their potential. The Early Entitlement promotes learning through play allowing the children to flourish at their own pace. In this department our children excel in confidence and fly like butterflies, ready to take on the challenges of full time education.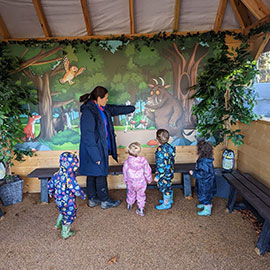 We ensure your children have the appropriate facilities and resources in every department throughout the nursery, to allow them to progress in their development. We offer our children first hand experiences to allow them to develop an understanding of themselves and the world in which they live in. We aim to meet the needs of all our children through a developmental, experimental and play based approach to teaching and learning. We in this nursery encourage our children to be creative and imaginative, which makes learning more enjoyable and more effective throughout their educational journey.
We comply with the seven areas of learning:
Personal and social developments
Well-being and cultural diversity
Language, literacy and communication skills
Mathematical development
Knowledge and understanding of the world
Physical development and Creative development
Welsh Language development