Staff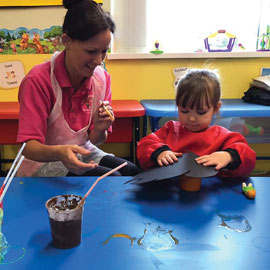 All members of staff are qualified to NNEB/NVQ Level 3 or Level 5.
In Caego Day Nursery Staff are committed to providing the highest standard of care and attention to each individual child. Staff will endeavour to create strong relationships with Parents and children. Our nursery motive on the staff uniform badge explains our feelings, "Where every child is loved". This philosophy is of paramount importance to Management and staff, This provides an extended family atmosphere, where our children can learn in a relaxed loving home from home feeling.
Staff are role models for our children. Their behaviour reflects on to the children.
We use distraction, redirection, also familiar comments and phrases to promote good behaviour. The tone of our voice and simple positive phrases, encourage the children to understand the reasons for our requests. We always find that the children are only too willing to please us.
We never tell our children they are naughty or feed them negative information about themselves. All staff are taught to give good positive input and this is promoted at all times.
Staff structure
Proprietor
Mrs Margaret Hosie
Manager
Mrs Rebecca Hosie
Team Leaders
Brenda Jones (Baby Unit)
Helen Francis (Baby Unit)
Cassie Williams (Little Chicks / Toddler Unit)
Belinda Thackaberry (Toddler Unit)
Lisa Riley (Toddler Unit)
Gemma Walsh (Early Years)
Beth Roberts. (Early Years)
All staff members hold their basic paediatric first aid and safeguarding, and are all DBS checked. In house training is of paramount importance in this establishment, Staff are also given the opportunity to further their qualifications.
Pictures of staff are on display in each reception area for the perusal of all concerned. Please note: in each reception area, there is digital photo frame containing evidence of all activities that have taken place during the week and a notice board where relevant information is displayed.